Penn State Nittany Lions running back Mike Zordich tried to hurdle over Temple Owls defensive back Vaughn Carraway during Saturday's NCAA football game at Beaver Stadium. It's unlikely that Zordich will be attempting that move again anytime soon after this embarrassing failure.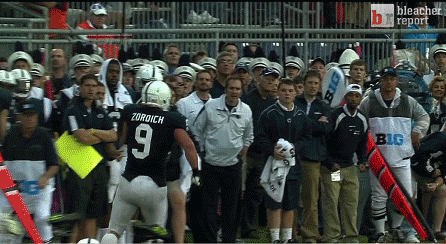 Zordich was right next to the sideline and could have stepped out of bounds, but suddenly thought he could leap like Superman. Carraway caught Zordich in mid-air and threw him down to the ground easily.
Zordich can consider this a valuable lesson learned. Not everyone can be like
Le'Veon Bell
.
H/T
Bleacher Report
.

Related:
Michigan State RB Le'Veon Bell hurdles over opposing player (Video)