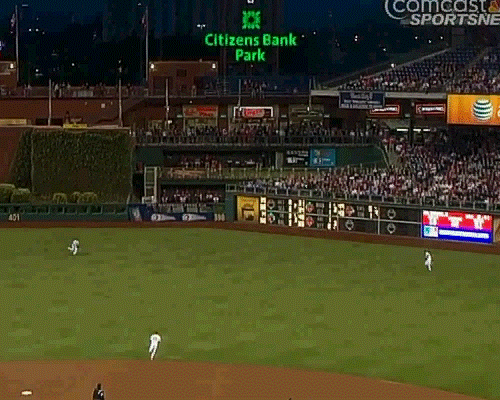 Philadelphia Phillies outfielder John Mayberry Jr. suffered an incredibly embarrassing moment when he slipped and fell while trying to catch a fly ball in the outfield during Thursday night's game at Citizens Bank Park against the St. Louis Cardinals.
It happened in the fourth inning as Cardinals batter Allen Craig hit an easy fly ball to right center field. Mayberry seemed to be placing himself in the right spot, but then inexplicably got his feet tangled up and fell to the ground. The ball bounced right over Mayberry, and Craig made it to second base easily. Since Mayberry couldn't be charged with an error on the play because he never touched the ball, Craig was credited with a double.
Things got worse as Craig came around to score when the next Cardinals batter, Yadier Molina, knocked him home with an RBI double. To top everything off, the Cardinals won the game 4-3, so that run arguably made all the difference in the game.
Talk about a bad day at the office. We'll see if Mayberry can move on from this debacle and redeem himself.
H/T
Sportress
.