Ottawa Senators left winger Magnus Paajarvi fell over during his goal celebration in Friday night's NHL game at Carolina.
Paajarvi knocked a rebound into the net to break open the scoring at the 15:43 mark of the first period. He lifted up one leg and pumped his fist, then suddenly lost his balance and fell on his side.
Fortunately, Paajarvi was OK and was able to laugh about it afterwards, which means it's OK for us to laugh at him as well. So let's watch Paajarvi's fall in an infinite loop, shall we?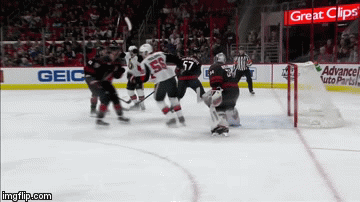 The
Senators went on to beat the Hurricanes 4-1
.
[
SportsNet
]